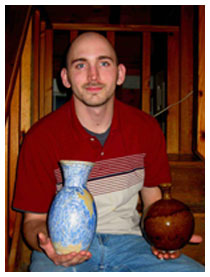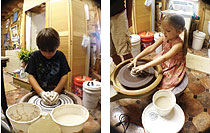 Chandler Collar
Chandler's pottery gift seemed to develop and grow with a life of its own. His talents evolved by watching and processing the pottery skills of his mother and teachers. He took some renowned classes at North Georgia College & State University (now known as The University of North Georgia) under Rick Berman (www.rickbermanceramics.com/resume.html)
and under Matt Henderson (www.markofthepotter.com/potters/matt.html).
Also, he had the opportunity to teach a continuing education course in beginning pottery at the university in 2004.

While being a vendor at an art festival one spring, Chandler was spotted by an art collector who proceeded in guiding him into having his work showcased at the Spruill Gallery off of Ashford- Dunwoody Road in Atlanta, GA. He is now guiding his son, 10 year old Thomas, in developing and honing in on his skills as a beginning potter.

Chandler's wife, Bree, also participates in the family business development by assisting with marketing, photographing and working on a variety of hand-built pieces. The littlest Collar, Miss Olivia who is 5 years old, also enjoys turning and hand-building right along with the rest of the family.